About Us
Guangzhou Fengtai Machinery Co., Ltd. is an enterprise that specialized in grain and oil processing equipment manufacturing, engineering designing, installation and training service, we have the capacity to produce 2000 sets of varied rice milling or oil pressing and other food processing equipment per year.
We have a professional pre-sales team as well as after-sales team to make sure the best satisfaction from the customers. We can provide complete rice milling plant from 18t/day to 500t/day and parboiled rice mil plant, oil pressing machines, as well as other food processing equipment.
Besides the domestic market, oue products has been exported to dozens of countries in Africa, Asia, Middle East and South Americe.
Guangzhou Fengtai Machinery Co., Ltd. will continue to innovate and offer better products and professional service, sincerely welcome new & old friends around the world to create much brighter future together.
Products and Services
High Quality Pneumatic Rubber Roller Husker
MLGT series husker is mainly used in paddy hulling and separating rice husk from the mixture of paddy and brown rice. It has gearbox for speed change, and once a new roll is installed, there is no need to dismantle any more. The structure is well sealed and thus avoids the leakage of rice. It is good in separating rice from hulls and easy in installing and dismantling roll, technology effect stable, operate secure, minimized noise, etc., greatly improve technological effects, lower consumptions and create more economic benefit.
Incorporated the latest techniques at home and aboard as well as the researches on husker of our company, MLGT series rubber roller husker are proven to be perfect processing equipment for milling plant.
Characteristics:
1.With double supporting construction, rubber roll is not apt to from difference in roll end diameters, with steady performance.
2.Shift gears through gear box, keeping reasonable differential and sum of roll peripheral speed between fast roll and slow roll; husking yield can come to 85%-90%; need not replace rubber rolls in separation, but simply exchange between rolls.
3.Use long shedding, with uniform feed, steady performance; equipped with automatic feed following mechanism, easy operation.
4.Use vertical air channel for paddy separation, with better effect of separation, less grain content in rice hull, less rice hull contained in mixture of husked rice and paddy.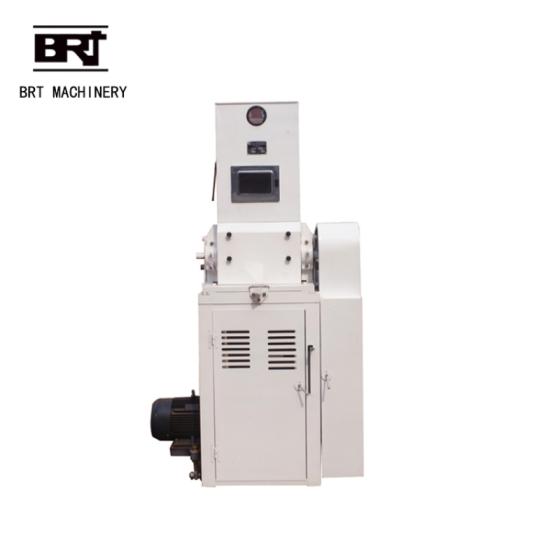 ?
Automatic 20-30 Ton Per Day Rice Milling Plant
Our 20-30t/d Small Rice Milling Plant is suitable for small scale rice milling processing, which can process about 1.5ton paddy and produce about 1000kgs white rice per hour. The main machines of this complete rice milling plant are Combined Cleaner, Husker, Paddy Separator, Rice Whitener and Rice Grader, etc.
The necessary machines for 20-30t/d small rice milling plant are as following:
20-30t/day Rice Milling Unit, including following necessary machines:
1 unit CSQZ75 Combined Cleaner
1 unit MLGT20B Husker
1 unit MGCZ100×5 Paddy Separator
1 unit MNMF15B Rice Whitener
1 unit MJP63×3 Rice Grader
5 units LDT110/26 Elevators
1 set Control Cabinet
Capacity: 0.85-1.5t/h
Power Required: 45KW
Overall Dimensions(LxWxH): 7500x1900x3720mm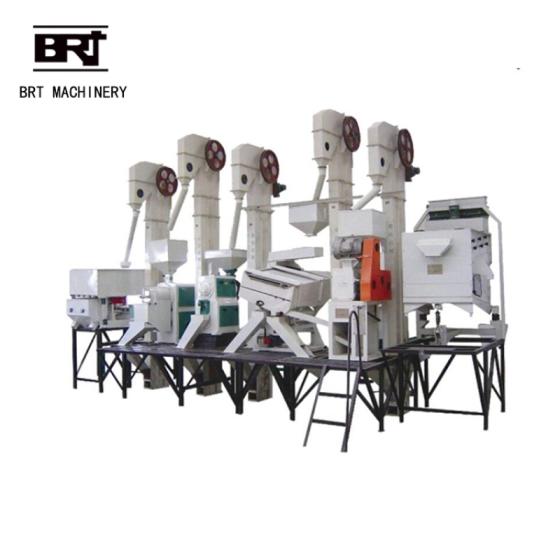 TQSX Automatic Suction Gravity Destoner
TQSX suction type gravity destoner is mainly applicable for grain processing factories to separate the impurities from paddy, rice or wheat. The destoner exploits the property difference in the weight and suspension velocity of grain and stone to grade them. It uses the difference of specific gravity and suspending speed between grains and stones, and by means of air stream passing up through space of grain kernels, separates stones from grains. The heavy impurities such as stones having the same size and shame with grain kernels are in the lower layer and move to the stone outlet by means of directional, slope and reciprocating movement of stoning sieve plate, while grains floating in the upper layer roll under self gravity to discharge outlet, so as to separate from grains the stones having the same size and shame with grain kernels. It also can be used to separate heavy impurities from other grains like soybean, rapeseed, peanut, etc. in grain processing. The stones are dropped to the ground and the grain flow in the air, and then the grain rolls into the discharge pipe because of weight.
Characteristics:
1. High stone-removing efficiency; with shutter sieve, it is more suitable for some grain processing plants where there are more stones content in raw grain.
2. The inclination of shutter sieve varies from 100 to 140 depending on the different feedstock to attain the best processing effect.
3. With external fan, full sealed machine, and no dust outside machine, thereby gaining the end of environmental protection.
4. Adopt reciprocating mechanism with rubber bearing, less vibrating, low noise.
5. Adopt self-aligning bearing with looseness prevention device so as to make mechanical property more steady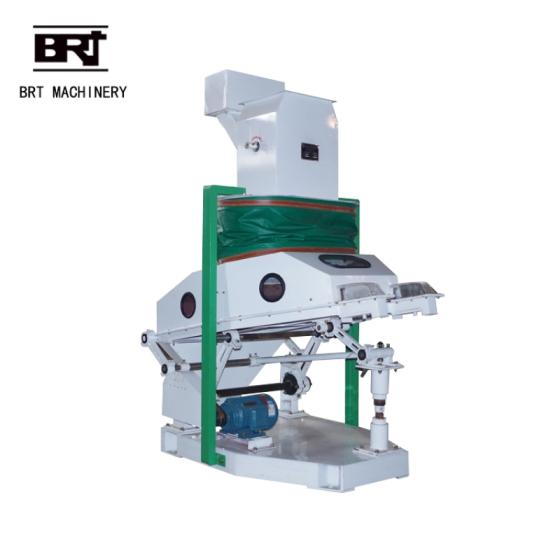 50-60 Ton Per Day Rice Mill Plant
50-60 t/day Integrated Rice Milling Line
We are the manufacturer for different rice milling machines, we can provide 18-300ton complete rice mill machinery. Through years of scientific research and production practice, we have accumulated sufficient rice professional knowledge and practical experience, we can provide complete rice milling plant from 18t/day to 300t/day, and different kinds of machines like husker, destoner, rice grader, color sorter, paddy dryer, etc. We also start to develop the Parboiled rice milling plant and installed successfully in Nigeria in 2011.
This series of machine is developed by our company can produce high-quality ricee. The series has a blowing device, bran can be separated directly. The output rice is very clean and bright, rice temperature is low, and low power consumption, large output, also has a beautiful appearance, compact structure, conveninent maintenance and operation characteristics, widely use in urban, rural, small and medium-sized rice processing plant.
50-60t/day integrated rice milling line is capable of processing 3-4tons paddy per hour, it can produce 2-2.5 tons white rice per hour. It is composed of elevators, vibration cleaner, destoner, paddy husker, rice polisher, rice grader, etc.
Product Description
Through years of scientific research and production practice, FOTMA have accumulated sufficient rice knowledge and professional practical experiences that also based on broadly communication and cooperation with our customers around world. We can provide complete rice milling plant from 18t/day to 500t/day, and different kinds of rice milling machines like rice husker, destoner, rice polisher, color sorter, paddy dryer, etc..
This 50-60t/day integrated rice milling line which developed by our company is the ideal device that produce high-quality rice. It is made in advanced technology and has the character of compact structure, high white rice yield, easy to install,operate and maintain. performance is stable, reliable and durable. The finished rice comes out with glittering and translucent. It is warmly welcomed by our users and customers around the world.
The necessary machine list of 50-60t/day integrated rice milling line:
1 unit TQLZ100 Vibrating Clenaer
1 unit TQSX100 Destoner
1 unit MLGT36 Husker
1 unit MGCZ100×12 Paddy Separator
3 units MNSW18 Rice Whiteners
1 unit MJP100×4 Rice Grader
4 units LDT150 Bucket Elevators
5 units LDT1310 Low Speed Bucket Elevators
1 set Control Cabinet
1 set dust/husk/bran collection system and installation materials
Capacity: 2-2.5t/h
Power Required: 114KW
Overall Dimensions(L×W×H): 15000×5000×6000mm
The optional machines for 40-50t/d complete rice mill plant:
MPGW22 Rice Water Polisher;
FM4 Rice Color Sorter;
DCS-50 Electronic Packing Scale;
MDJY60/60 or MDJY50×3 Length Grader,
Rice Husk Hammer Mill, etc..
The features of 50-60t/day complete rice mill plant:
1. This integrated rice milling line can be used to process both long-grain rice and short-grain rice(round rice), suitable to produce both white rice and parboiled rice, high output rate, low broken rate;
2. This line is combined with bucket elevators, vibration cleaner, de-stoner, husker, paddy separator, rice grader, dust remover, it is practical and eco-friendly;
3. Equipped with 3 units low temperature rice polishers, triple milling will bring high precision rice, more suitable for commercial rice business;
4. Equipped with separate vibration cleaner and de-stoner, more fruitful on impurities and stones removing.
5. Equipped with enhanced polishing machine, can make the rice more shining and glossy;
6. All spare parts are made by high quality materials, durable and reliable;
7. The complete set of equipment arrangement is compact and reasonable. It's convenient to operate and maintain, saving workshop space;
8. The installation can be based on steel framed operation platform or concrete flatbed according to customers requirepment;
9. The rice color sorting machine and packing machine are optional.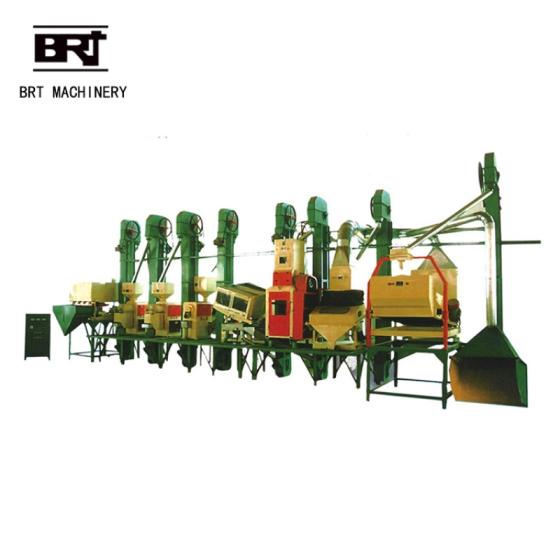 Good Quality Vertical Iron Roller Rice Whitener
Vertical Iron Roller Rice Whitener
Designed in the light of the requirements of client and the market demands, the specific local conditions in china as well as on the basis of overseas advanced techniques of rice milling, MNLT series vertical iron roll whitener is designed elaborately and proved to be perfect for short-grain rice processing and ideal equipment for large rice milling plant.
Characteristics:
1.Good appearance, High configuration, beauty shape, safety and stability, advanced manufacturing technology.
2.The durability of the wearable parts has been increased by special heat treatment, more durable and less service.
3.Equipped with current and negative pressure indicator and multi-position air gate an adjustment as well, convenient to operate and reliable.
4.Use auger to feed forcibly, thereby flowing steadily. Adopt the construction of under-side feed and top discharge, elevator saving.
5.After equipped with water pump, it can be regarded as water polisher.
6.Higher milling yield and less broken.
7.Easy operation and replacement of parts. All moving parts are dynamically balanced.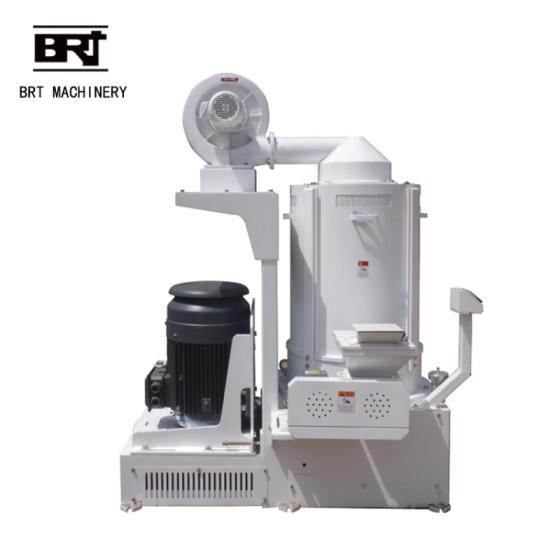 Vibrating Oscillating Paddy Cleaner
TQLZ Series vibrating paddy cleaner, also called vibrating cleaning sieve, is designed on the basis of referring and absorbing the foreign sieving technology and summarizing the advantages of different vibration sieves made in China.
The vibrating cleaner can be widely used in the initial processing of rice, flour, fodder, oil and other food. It is generally erected in paddy cleaning procedure to remove large, small and light impurities. By equipped with different sieves with different meshes, the vibrating cleaner can classify the rice according to its size and then we can get the products with different sizes.
The vibrating cleaner is characterized by high removing-impurity efficiency, stable performance, smooth operation, low power consumption, low noise, good tightness, easy assembling, disassembling and repair, etc. It also has the advantages of compact construction, high production efficiency, low maintenance requirement, easily removable inspection covers, simple and precise motor alignment.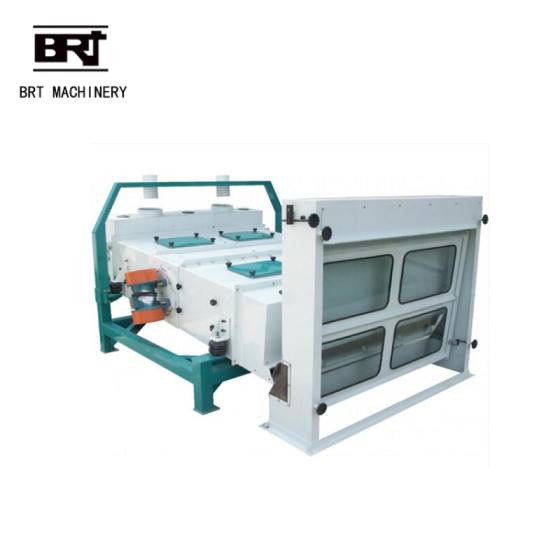 Water Polishing Machine Rice Polisher
MNMF18x2 water polisher
Low rice temperature
High output
Easy to operate
SGS
Introduce for MNMF18x2 water polisher :
MNMF18x2 emery roller whitener is mainly used for brown rice milling as well as whitening, particularly suitable for processing high moisture (below 18%) rice. With a more cost-effective twin-roll milling, which is equivalent to two single-machines, the machine features big capacity, high precision, low rice temperature, and convenient to feed. It is ideal equipment for 100-210T/day rice milling plant.
Technique parameter for MNMF18x2 water polisher :
| | |
| --- | --- |
| Type | MNMF18x2 |
| Output (t/h) | 4-5 |
| Power (kW) | 37-45 |
| Rotary speed (rpm) | 955-1550 |
| Negative pressure (mmH2O) | 150-200 |
| Air volume (m3/min) | 40-45 |
| Weight (kg) | 1500 |
Characteristics for MNMF18x2 water polisher :
1.Due to parallel double rollers, the machine features compact structure, covering small required area.
2.Flexible feeding and balanced production from twin-roll meet the needs of several of processing ways.
3.Rice milling under strong negative pressure and multi-point adjustable air intake in whitening chamber feature big capacity, low rice temperature, less bran and broken rice.
4.With special chamber design, it's convenient for customers to place screen.
5.Supplying many kinds of motor pulleys can be suitable for different varieties.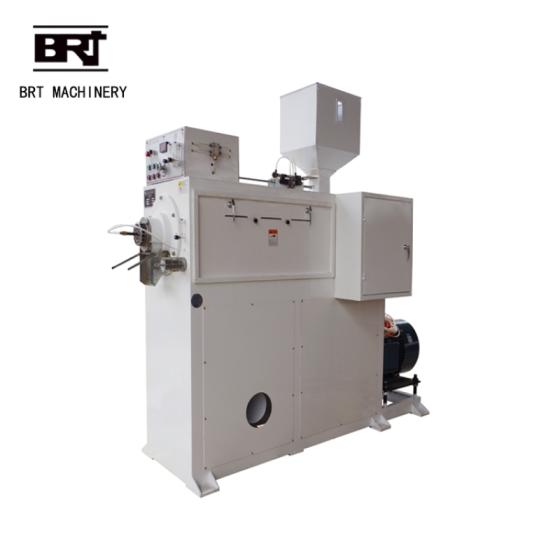 Automatic High Quality CCD Camera Color Sorter
Name rice color sorter CCD camera

Introduction
?
1.The Combination of Art and Practicality
Nikon industrial grade 2048-pixel CCD camera and high resolution image sensor with high precision, accurately detect tint particles and tiny flaws;
2. Original Software Algorithm
Analysis of spectral properties of various kinds of material to identify flaws and color difference tiny to 0.1mm;
3. Reliable optical structure design
Multiple lights & wide angle optical system enables various color sorting mode were able to achieve the best results;
4. Powerful operating system
Various sorting mode and automatic memory function, no any setting of next starting up, easy to get the best sorting results.
rice ccd camera color sorte Equipment Description:
Anon No.

ANMD1/63

ANMD2/126

ANMD3/189

ANMD4/252

ANMD5/315

ANMD7/441

Channels

63

126

189

252

315

441

(Primary : Secondary)

N/A

63:63

126:63

189:63

252:63

315:126

Capacity(t/h)

0.6~1

1.0~2.0

1.5~3.5

2~5

3~8

5~10

Sorting accuracy

≥99%

≥99.99%

≥99.99%

≥99.99%

≥99.99%

≥99.99%

Optimized carryover

(bad:good)

>4:1

> 8:1

> 8:1

> 8:1

> 8:1

> 8:1

Voltage (V)

AC220V 50/60Hz

AC220V 50/60Hz

AC220V 50/60Hz

AC220V 50/60Hz

AC220V 50/60Hz

AC220V 50/60Hz

Power (KW)

< 1.5

< 2

< 2.4

< 2.7

< 3.0

<4.0

Air Pressure

(Mpa)

0.6-0.8

0.6-0.8

0.6-0.8

0.6-0.8

0.6-0.8

0.6-0.8

Air Consumption
(m3/min)

< 0.8

< 1.25

< 2.5

< 2.8

< 3

< 3.6

Weight(Kg)

500

700

800

1000

1250

1600

Dimension
(L×W×H)

(mm)

1025 x1570 x1850

1205 x 1570 x1850

1516 x 1570 x1850

1850 x 1570 x1850

2250 x 1570 x1850

2765 x 1570 x1850
Remarks:
All the performance index listed above are based on nonglutinous rice (2% impurity,30kg/h per channel) ,and specific index will vary with the content of different raw materials ,different impurities or different output of each channel.